Famously Scandalous A-Z:

Scandal Types:
View information about Pete Rose's scandal here on famouslyscandalous.com Pete Rose. You can view information about Pete Rose's famous scandals and other celebrity scandals. You can view by name or by scandal type. We also have included the most popular famous scandals.
Pete Rose's Scandals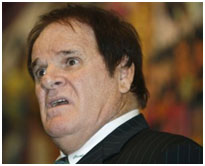 Pete Rose
Baseball
1989
Lifetime ban from Baseball, including the Hall of Fame
The Pete Rose gambling scandal:
There are a several ballplayers banned from baseball's Hall of Fame because of indiscretions off the field. One of the most notable is Shoeless Joe Jackson…
…who got ensnared in the 1919 Black Sox Scandal.
And the Baseball Steroid Scandal at the turn-of-the-century is sure to at least delay the enshrinement of some otherwise sure shot candidates like all-time home run leader Barry Bonds, pitching ace Roger Clemens, Mark Maguire and others, including Alex Rodriguez.
But another man who's been denied access to baseball's Hall is the all-time hit leader, Pete Rose.
Rose hit safely 4256 times in his career.
Ty Cobb…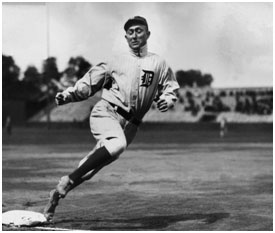 …who died a couple of years before Rose made the majors, is second with 4191 hits.
And Pete was on several World Series championship teams with the Cincinnati Reds and the Philadelphia Phillies. He also played for the Montréal Expos.
Nicknamed "Charlie Hustle", Rose was noted for his aggressive playing style….
…but also caused and had problems as a player on the field.
He virtually ended of the career of Cleveland catcher Ray Fosse with a hard-hitting slide during the 1970 All-Star game.
And he was also involved in a nationally broadcast scuffle with New York Mets shortstop Bud Harrison during the 1973 National League playoffs.
But that was nothing next to his problems with gambling.
Rose was caught betting on baseball while he was the manager of the Cincinnati Reds.
He was originally questioned about reports that he bet on baseball in February 1989, by the outgoing Commissioner Peter Ueberroth. Pete denied it and the commissioner dropped the investigation.
But Ueberroth's replacement, A. Bartlett Giamatti, renewed the investigation against Rose. The subsequent report showed he bet on 52 Reds games in 1987, with a minimum $10,000 bet a day.
Rose continued to deny it and refused to appear at the hearing with the commissioner on the matter. He even filed a lawsuit saying the commissioner had prejudiced the case and couldn't provide a fair hearing.
But by August 24, 1989 Rose had voluntarily accepted a permanent place on baseball's ineligible list.
All of those hits -- but the biggest one for Pete Rose was the one he took well after his playing days ended.
Feel free to email us and tell us what you think: