Famously Scandalous A-Z:

Scandal Types:
View information about McKenzie Phillips's scandal here on famouslyscandalous.com McKenzie Phillips. You can view information about McKenzie Phillips's famous scandals and other celebrity scandals. You can view by name or by scandal type. We also have included the most popular famous scandals.
McKenzie Phillips's Scandals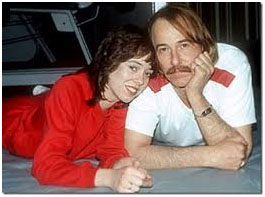 McKenzie Phillips
Actress
Various
The McKenzie Phillips / John Phillips Scandal:
She was a successful child actress, seen in the movie "American Graffiti"…
…the TV sitcom "One Day at a Time…
…and the daughter of a true '60's rock star – John Phillips, who wrote the songs for the popular group "The Mama's and The Papas".
McKenzie Phillips was born, November 10, 1959. Her mother was Phillips first wife, Susan Adams.
She was 12 years old when she won an audition to appear in "American Graffiti."
And her success led her to a $50,000 a week job in the TV show "One Day at a time".
But in the show's third season she was arrested for being drunk and possessing cocaine. She was showing up for work drunk and even incoherent for rehearsals. The producers made her take a six week production break to recover - and then they fired her.
Married twice, she's been troubled by drug abuse for much of her life.
But her scandal was a lot more than drug abuse.
In September 2009, she revealed in an hour long interview on the Oprah Winfrey show that at 19, on the eve of her first wedding, she'd had sex with her father.
She told People magazine her father had given her drugs before it happened.
However, she told Winfrey it later became a consensual relationship. For ten years. It ended with an abortion that he paid for and she said she never let him touch her again.
Papa John Phillips died of heart failure in March 2001, long before the accusations were made, and was never able to respond to them.
Phillips second and third wives said they didn't believe McKenzie's charges.
A half-sister, Bijou…
…does not believe it. But Chynna Phillips…
…McKenzie's other half-sister, said she believed the claims.
Feel free to email us and tell us what you think: