Famously Scandalous A-Z:

Scandal Types:
View information about famous Love Triangle Scandals here on famouslyscandalous.com Celebrity Love Triangle Scandals. You can view information about the famous love triangle Scandals and other celebrity scandals. You can view by name or by scandal type. We also have included the most popular famous scandals.
Celebrity Love Triangle Scandals
Celebrity Love Triangles
Stars from Film, Music, Sports and Politics
Various
Breakups, Marriages, More Breakups
Face it. The rich, beautiful, powerful and famous live differently than most people. While they certainly have day to day problems, worries and annoyances, they're not the same ones most folks have and they always seem to have a lot more time and cash to indulge their desires.
And In Hollywood, this can mean an especially sharp degree of temptation with all of the alluring people running around.
There've been several highly publicized Celebrity Triangles going back over the years, most of them in Hollywood.
In the 1950's and 1960's, Elizabeth Taylor starred in a few. When her stage and film producer husband Mike Todd…
…died in a 1958 plane crash, Liz was consoled by his good friend, Eddie Fisher, who was then married to actress Debbie Reynolds.
Consolation turned into intimacy and Debbie soon found herself getting dumped by Eddie for Liz.
The singer and Taylor married. But a few years later, Eddie found himself on the sidelines when Liz started her torrid affair with Richard Burton on the set of the movie "Cleopatra".
Eddie now knew Debbie's pain as Liz and Burton married.
Liz & Dick had their problems too, divorced, remarried each other and split again. Liz was married 8 times in all.
Then there's the case in more modern times of Brad Pitt and Jennifer Aniston.
Both sex symbols, they were married in July, 2000 and it lasted about five years, until another sex symbol joined the picture. Angelina Jolie was Pitt's co-star in "Mr. & Mrs. Smith" and they were soon to become Mr. & Mrs. Pitt.
Angelina moved in on Brad…
…and Jennifer was out although she went on to other relationships. Pitt and Jolie stay married and adopted several children.
Meg Ryan was married to Dennis Quaid and they seemed to be getting along well, having been married for nine years. But then Meg met Russell Crowe on a movie set. Hello Russell bye-bye Dennis.
Ryan later maintained he'd been unfaithful to her too.
Here's one that still shocks a lot of people. Woody Allen was married to Mia Farrow and she had an adopted daughter Soon Yi Previn. But soon Woody was hanging out with Soon Yi and Mia was out on the sidelines.
Here comes Angelina Jolie again.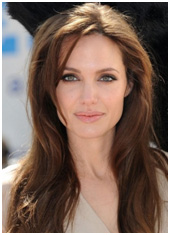 Actually, this happened before Brad Pitt. Billy Bob Thornton had an ongoing relationship with Laura Dern, until Angelina caught his eye.
So long Laura, Hi Angie! Of course Angelina moved on from Billy Bob when she met Brad Pitt.
Musician Richie Sambora was married to actress Heather Locklear until he met with Denise Richards…
…and dumped Heather in favor of Denise.
Speaking of musicians, a Rolling Stone gathers no moss and that certainly applies to Keith Richards, who moved in on band-mate Brian Jones' girlfriend, Swedish model Anita Pallenberg. Jones, who founded the Stones, was kicked out of the band when he lost Anita to Keith.
By the way, Anita also had an affair with Stones' lead-man Mick Jagger, when she costarred with him in the film "Performance."
Jones – meantime - drowned mysteriously in a swimming pool in 1969.
Let's go back to the days of black-and-white movies. Spencer Tracy was married to Louise Treadwell but had this thing for Katherine Hepburn.
Tracy and Hepburn kept their relationship going for years.
Frank Sinatra was married with three kids to his wife Nancy Barbato and things were moving along until he met Ava Gardner.
Everything stopped for Mr. Sinatra when he met Ava.
Nancy was gone and Ava and Frank had a brief but tempestuous marriage. They divorced and Frank moved to marry the much younger Mia Farrow several years later. That ended in divorce and you already know what happened to Mia with Woody Allen.
Billy Crudup met Mary Louise Parkers when they co-starred in a play in 1996 and Parker was seven months pregnant with his baby in 2003when he left her for his co-star in "Stage Beauty", Claire Danes – star of the Showtime series "Homeland".
They confirmed they were dating in 2004, but denied any overlap with Mary-Louise.
And then there are some of the iconic names of America in the 50's and 60's. Joltin' Joe DiMaggio had already split with his wife Marilyn Monroe when the sex goddess got involved with President John F. Kennedy, who was married to Jacquelin Kennedy. Jilted Joe was furious and never forgave either Jack or Bobby Kennedy for their rumored affairs with Marilyn.
Send us an email with suggested additions to our randy group.
Feel free to email us and tell us what you think: